Categories
Categories
Brands
Brands
Shop by Price
Shop by Price
Beta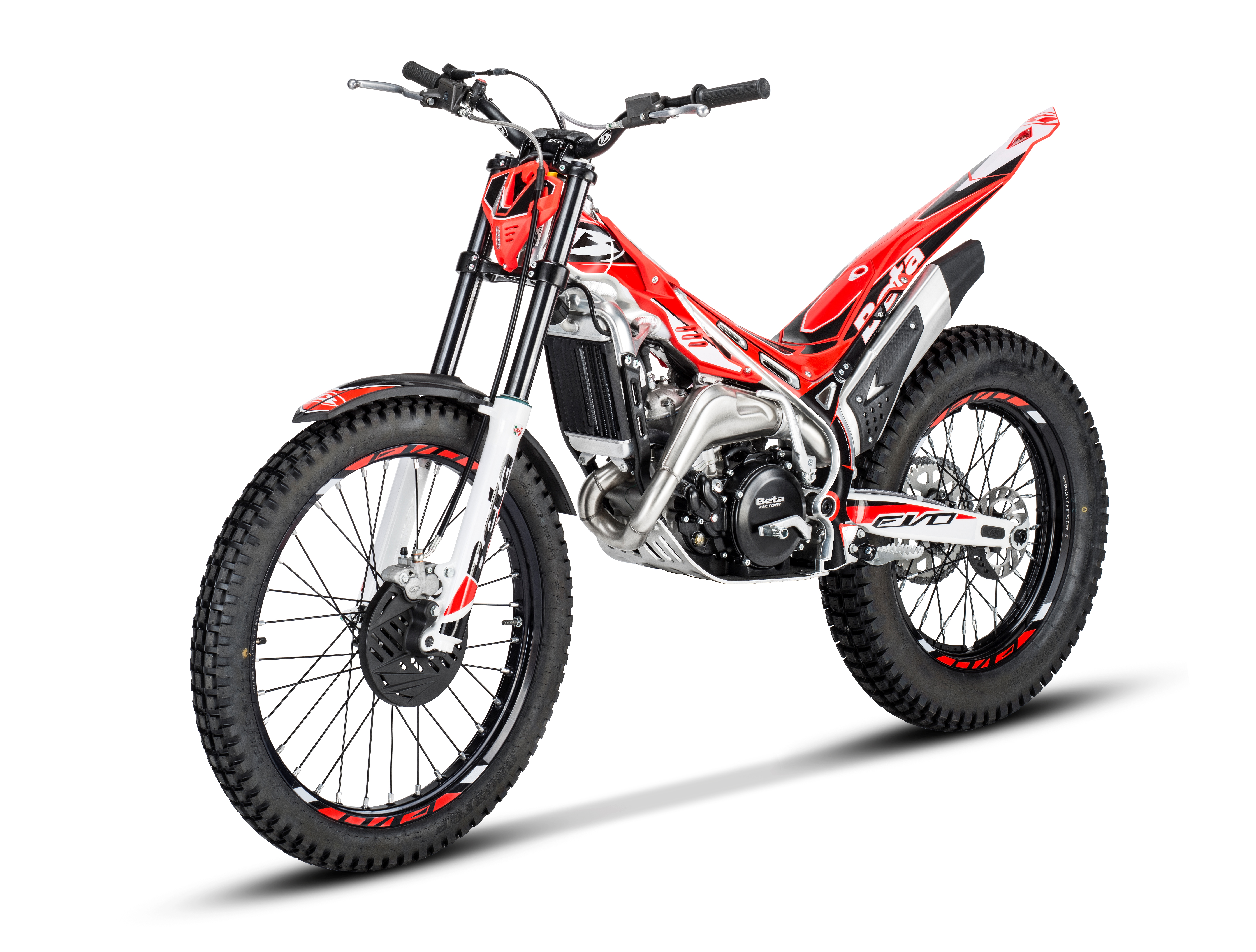 As well as being able to buy your Beta Trials Motorcycle here, we also stock a range of Beta and aftermarket parts for your trials bike and can carry out your warranty repairs.
The new 2019 Beta EVOs and Factory EVOs are now available!
The Tuscany-based bike builder's engineers have completed an intense development and technical refinement program to give the new EVO an even higher performance and reliability while increasing the fun factor and providing "rideability".

The new Trial range incorporates all the race know-how built up by the Beta Factory Team (which, this year, has two top riders, Albert Cabestany and James Dabill), ensuring all riders, non-professional and professional alike, can count on the best available technology.
There are four 2-stroke engines: 125, 250, 300 and 300 SS where "SS" stands for Super Smooth, a Trial bike with a decidedly softer, more fun-oriented character than its more aggressive counterparts.

The world renowned 4-stroke version, is available in a 300 cc displacement and offers a sound alternative to the 2-stroke versions thanks to user-friendly engine power delivery which is welcomed by clubman riders and experts alike.

The Evo SPORT models return for 2019 as well. These popular low speed trail-fun bikes are based off the standard Evo models but have included features such as the long-range seat/fuel tank, hand guards, knobby tires, and taller final gearing. This model has been designed for those looking for a nice fun bike for trails that offer un-intimidating power and a low seat height.
Engine Updates:

Evo 2 Stroke
All the 2-stroke versions - including the 300 SS - have the following new features, designed to give the bikes a more technically polished feel.
Engines (except the 125 cc) feature a cylinder with a new exhaust port geometry and new timing curves. Both of these developments improve low-rev engine control and stabilize the power delivery, providing exceptional, stock-setting performance.
Moreover, a new gear selector cam has been designed which was used in the earlier Factory models, and provides more positive shifting.
Another Factory model feature is the new CDI control unit, now with even better performance and optimized mapping for the new cylinder.


Evo 4 Stroke
The 300 4T (4-stroke) engine has also been upgraded. One of the most important new features is a new throttle with a redesigned internal ramp that gives better low-rev power control. Like the 2-strokes, the 4-stroke inherits the new CDI control unit with new, dedicated mapping.
Chassis Updates:

Much of the attention was directed at the chassis set-up, with a series of new features on both the 2-stroke and 4-stroke models:

New shock absorber port geometry: now higher and more progressive;

New shock absorber piston: increased suspension sensitivity and progression. Together with the modified plug geometry, the new piston generates decidedly more grip, making it more forgiving in the event of rider error;

New pump on mechanical side of fork: ensures more progressive impact absorption;

New fork oil: improves stability at high temperatures, maximizing smoothness;

Renewed chain tensioner: adjustment range now wider while making adjustments easier;

Rear brake caliper with brake pad anti-vibration system: maximizes precision and significantly reducing noise.

New graphics and colors.
Prices:
Trial Model: Sport Model:
Evo 125 $7099.00 $7599.00
Evo 200 $7199.00 $7699.00
Evo 250 $7699.00 $8199.00
Evo 300 $7899.00 $8399.00
Evo 300 SS (Super Smooth) $7899.00 $8399.00
Evo 300 4 Stroke $7999.00 $8499.00
2019 Factory EVO

The new 2019 Evo Factory models hit the market with a perfectly styled racing look and special components that make it a must for trial riders who want to tackle the race season with the best the Tuscany-based bike builder has to offer. There are three 2-stroke versions (125, 250 and 300 cc) and a 4-stroke version (300 cc), all of which have undergone meticulous technical development to make the bikes even better than the prior models. Beta, Italy's only trial bike manufacturer and the undisputed global market leader, provides an engine with a distinctly "racing" character that, together with the first-class chassis set-up, provides ultra-high performance without diminishing the fun factor.
ENGINE
Compared to the standard version presented in September, the Evo Factory models stand out due to the following features.

2-Stroke

Black magnesium covers: these provide major weight savings, combining even more agile, enjoyable riding with eye-catching design.

Titanium head pipe: boosts performance significantly and reduces weight.

Profiled clutch discs: maintain clutch precision and control even under the most extreme conditions while providing a light clutch lever pull.

Cylinder with revised porting: provides a more powerful and consistent power delivery for the serious rider without removing the user-friendliness Beta is popular for.

Cylinder head with specially-designed volume and squish (300 cc only): considerable performance increase; the red color also offers a 'racing' look.

Optimized control unit (ECU) mappings to enhance low-rev power delivery and maintain excellent performance at mid-high revs.

Black anodized engine oil plugs.

4-Stroke
The 300 cc engine on the new 2019 Evo Factory 4 Stroke is equipped with a lighter, even higher-performing titanium silencer. Moreover, a new electronic control unit boosts power to improve the stability of the ignition delivery creating a more clean-burning combustion throughout the rev range.
CHASSIS
To make the new Evo Factory a true competition-ready bike capable of competing at the highest level across all categories, much of the design work has focused on the suspension. More specifically, the differences with respect to the standard versions are as follows:

Re-calibrated fork valving: continued development to provide the perfect setting for both Expert and Clubman riders.

Gold anodized, billet machined triple clamp: reduces weight, increases stiffness and lets the rider shift the handlebar risers forwards or backwards to adjust bike set-up to perfection.

Rear suspension with longer wheelbase and adjustment of both compression and rebound: settings have been refined even further thanks to more progressive valving and a more stable, assertive set-up that provides outstanding benefits, especially in pre-obstacle compression and push-off.

Linkage progression: more sensitive and progressive, ensuring better traction and push-off when faced with high obstacles.

Lanyard-type kill switch: ensures the bike can be used in complete safety.

Black anodized bar end plugs: these protect the grips and ensure smooth, long-lasting throttle performance.

New black anodized chain adjusters: designed to allow more precise adjustment of chain tension and satisfy even the most demanding riders.

Billet machined foot pegs with non-slip steel pins: ensure maximum boot grip even under the most extreme conditions as well as significant weight reduction.

Racing brake discs: more powerful braking, weight savings and a more aggressive look.

BrakTec brake and clutch master cylinders: for improved braking feel and increased power.

Black anodized brake and clutch master cylinder covers.

Rear brake caliper with brake pad anti-vibration system.

Gold rims: in pure racing style.

Michelin X-light tires: to maximize performance whatever the riding conditions.

New eye-catching design: introduces gold to match the classic Factory red white and blue.
Beta Trials Motorcycles, is an Italian motorcycle company, founded in 1904 by Enzo Bianchi and Arrigo Tosi, whose initials make up the Beta name. It was in the 1950s that Beta saw success in hill climbing competitions with its 175cc models and then later in the 1970s that Beta began to specialize more and more in off-road vehicles.
This specialization and commitment to competition motocross, enduro and trials has lead to many successful partnerships, including Trials World Champions Jordi Tarres in the 1980s, Dougie Lampkin in the 1990s and Albert Cabestany in 2002. The Beta production plant near Florence in Italy manufactures around seventeen thousand 2 and 4 stroke vehicles and fifteen thousand engines each year, 70% of which are exported abroad.
Shipping costs are $249.00 for 80cc, and full size EVO $319 ($379 for 300 Cross Trainer) and $195.00 for Mini Trial to our store in Bradenton, FL. Details of the 80cc are currently unavailable.
Freight prices exclude Alaska and Hawaii. Prices subject to change.
Call us to find out about availability.